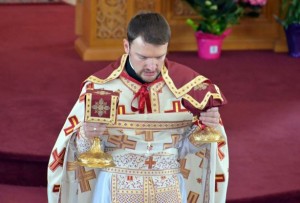 Protoirej Obrad Filipovic was appointed as Parish Priest for our Church on the feast of St. Simeon Mirotocivi, on February 26th, 2000. Arrival of a young and promising priest represented a revival of our Church-School Congregation as father Obrad devoted his efforts to working with young people. Soon after his arrival he managed to establish spiritual discussions with them and everyone participated in these lively conversations.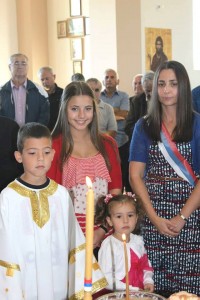 At the meeting of the Board of Directors on August 13, he exposed his plan for the founding of a Church School and received a full support to work on this initiative. In September of the same year the school began its first successful year and welcomed a very large number of students, about 90, which was a great success.
In addition to his many obligations, our priest has been actively engaged in missionary work. From year to year, since his arrival, the number of holy baptisms, marriages and of people who come to Divine Liturgy is climbing.
Obrad's wife Milanka also faithfully and selflessly serves the Church and Serbian people, as well as her three children: Kristina, Theodore and Katarina.