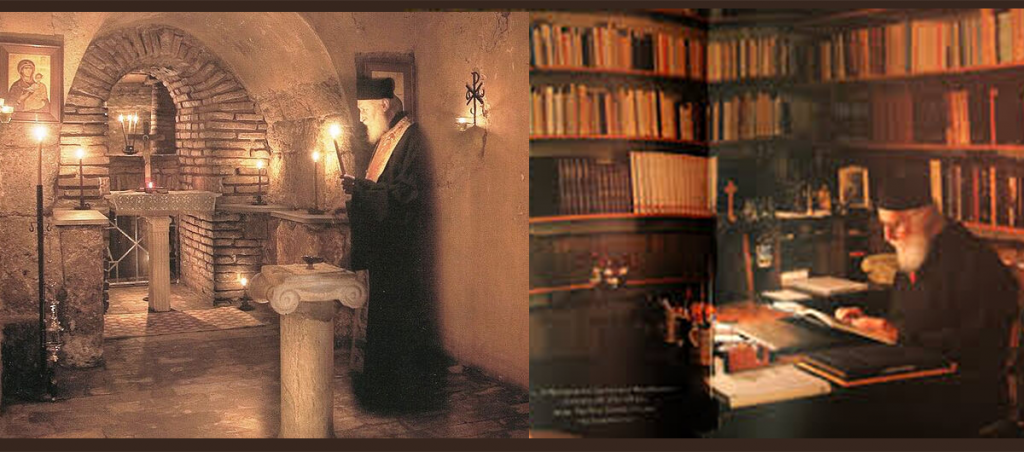 On September 23, 2020, Schema-Archimandrite Elder Timotheus (Sakkas), abbot of the Holy Monastery of the Paraclete, near Oropos (Attica, Greece), reposed in the Lord. He was known throughout as a God-bearing elder, teacher and defender of the true faith.
His acquaintance with the Athonite monk Fr. Cherubim (Karambelas) was vital for the future of the Elder as father Cherubim became his confessor and spiritual father. In this way, the life path of archimandrite Timotheus became inextricably tied with the Paraclete Monastery. In 1980 he was elected abbot of the monastery and served as such for 40 years. Along with that he led the Russian parish of the Holy Trinity Orthodox Sobor in Athens. He served there for three generations and baptized people from three generations. The list of books translated and published by Geronda is truly long as is the list of churches and monasteries built or supported by him. With his life and works, Elder Timotheus justified his name which means "honouring God" – he did everything "in God's honour".

Father Timotheus was distinguished for his modesty: he did not bless publishing any materials about him, he did not even liked to be photographed. Despite his illness in the last years, he did not lose courage. He served many hours of Lenten services and all-night vigils.
Strict towards himself and the monks, he was lenient towards other people who came to him for advice. At first, Geronda would listen carefully to the person and only then he would give advice. Due to his huge experience relating to people, often one glance was enough for him to understand who was in front of him.
Thousands of people in Greece, Russia, Poland, Bulgaria, Georgia and other countries who had the blessing to get to know the elder and receive his grace-filled advice will forever keep bright memory for him in their hearts and remember his words: "We must live with one hand holding onto Heaven".